Frame Material : High Strength Aluminium Alloy
Coating : Environmentally Friendly Spray Coating
Backrest Main Frame : "D-Shaped Tubing (Tube Wall Thickness 2mm")
Seat Board : "Aluminium Alloy
Seat Width : 41cm
Seat Depth : 49cm"
Cushion : Thin Sponge Cushion(Thickness 0.5cm)
Armrest : "High-Strength Aluminium Alloy + Rubber(Short Armrest)"
Lifting Bars on Both Side of Footboard : Yes
Expanded Dimensions(LxWxH)cm : 129 x 51 x 157 (±1cm)
Folded Dimensions(LxWxH)cm : 100 x 51 x 31 (±1cm)
Packaging Dimensions(LxWxH)cm : 110 x 58 x 33(±2cm)(Carton Box)
Net Weight : 28 kg
Gross Weight (Packaging Weight) : 33 kg
Front and Rear Wheel Size : 3inch (front) 5inch (rear)
Max Loading : 160kg (Recommended 150kg)
Climbing Speed : Average Speed 1.2s per step
Climbing Wheelchair Motor : Carbon Brush 120w
Track Width and Thickness : Width:3.2cm/Thickness:1.5cm
Track Angle : 15°/25°
Track Material : Wear-Resistant Rubber Lining Reinforced with Nylon Rupe
Track Opening Method : Manual Two Gears
Battery : Lithium Battery 24V/13AH
Battery Continuous Operation : Approximately 500 Steps
Front and Rear Wheel Size and Material : "3inch/5inch(Solid PU Wheel
Front and Rear Wheel Spacing : 64cm
Left and Right Wheel Spacing : 50cm
Charger : Malaysia Plug 240V
Operator Conditions and Requirements
1. The operator should preferably be a male under 55 years old. Elderly individuals or those who are physically weak should not operate the device!
2. During Operation, the operator should exert downward pressure on the armrests to maintain the overall balance of the vehicle!
3. if the operator cannot completely control the device alone, there must be an assistant in front of the vehicle to maintain balance!
Operating Precautions:
1. When starting to climb stairs, the wheelchair climber body will tilt upward. It is necessary to press down on the armrests to ensure stability!
2. If a rest is needed during the climb, it is essential to ensure that the tracks are simultaneously pressing against three steps!
3. Before descending stairs, the Wheelchair Climber should pause on the first two steps to ensure that the tracks are properly aligned with the steps and the vehichle remains balanced
4. During the descent, the front wheels of the vehicle should stay away from the edge of the steps. Lift the front wheels, allowing the tracks to touch the ground. Use both hands to support the armrests to maintain balance. Press the descent button and adjust the vehicle to a balanced state as necessary."
Passenger Requirement:
1. Passenger with heart disease are not recommended to ride
2. For passenger weighing between 80kg and 100kg,it is recommended to have an additional assistant to help the operator control the ascent and descent of stairs for safety reasons."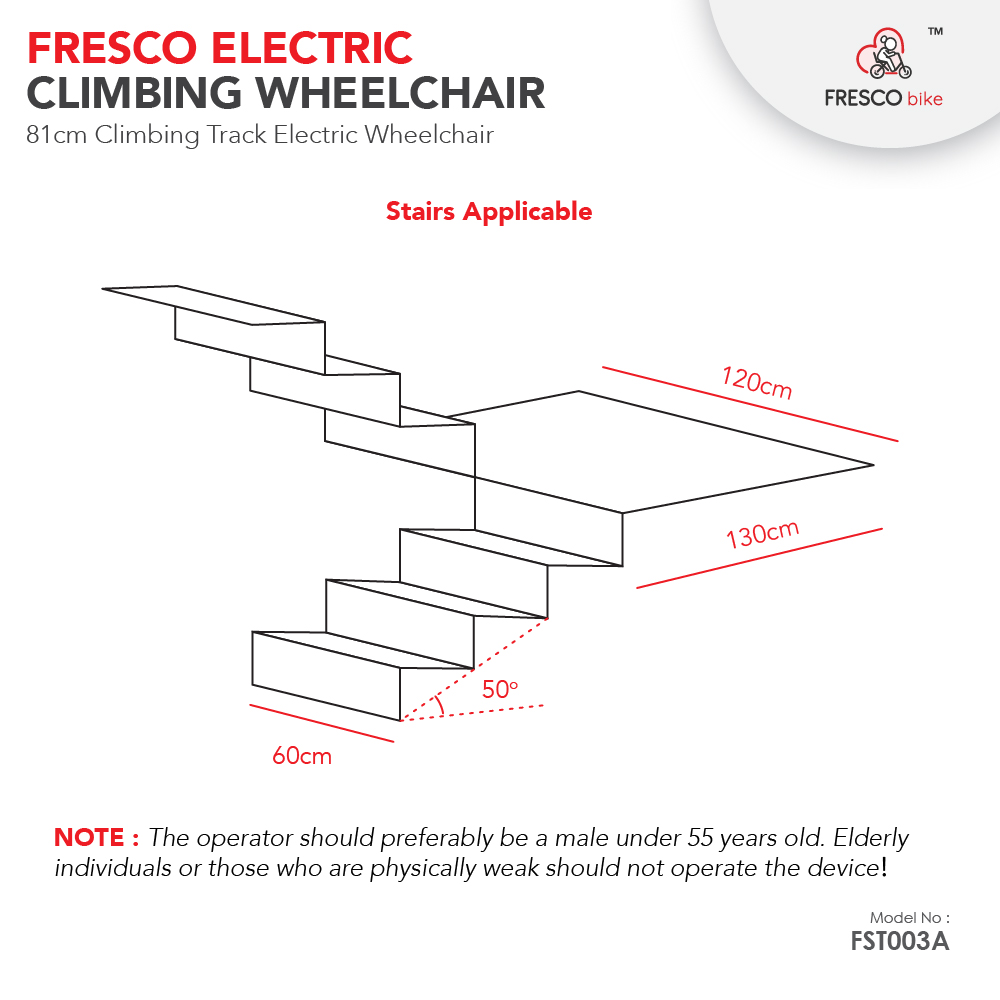 Last Updated @ 30/6/2023 12:47:40 PM